Posted July 22nd, 2010 by admin
This entry was posted on Thursday, July 22nd, 2010 at 10:29 pm by admin. Filed under: miscellanea. Tagged as: . You can follow any responses to this entry through the RSS 2.0 feed. You can leave a response, or trackback from your own site.
Leave a Reply
Joy Unconfined
"On with the dance! Let Joy be unconfined." Lord Byron
Categories
Twitter
Recent Comments
Recent Posts
More priceless than rubies
I'n thmawt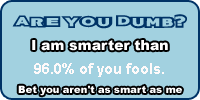 Am-I-Dumb.com -
Intelligence Test
Local time
Would I survive the zombie apocalypse?